Clear Sky Chart
The handy "Clear Sky Chart" below is a much better indicator of the weather and how clear the sky will be for astronomical observing than many local weather reports. That's because weathermen will call the sky clear even when it is very humid so that the transparency will be poor. Weather reports usually don't say how dark the sky will be, either.

Looking for a local astronomy club?
Try the Syracuse Astronomical Society (SAS)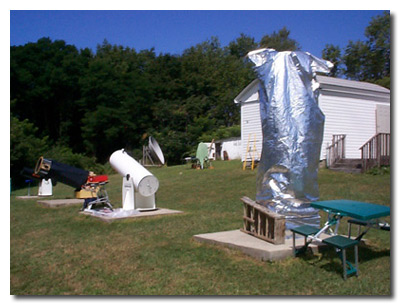 Join the SAS
To the right is a link to the Syracuse Astronomical Society. This is a local group that can give you all the 411 on watching the sky in the Syracuse area. They are a group of very friendly people who love to watch the sky and the yearly family membership dues are quite reasonable.
Astrophotography
Most of us set our computer brightness to full. I am in the process of rebalancing the brightness for all my pictures to a standard value of about half the maximum brightness. If some pictures seem way too bright, just dial back your screen brightness to half and they should be great.